Overview
When you first log into BigTree, you will see the Dashboard Overview page. This landing page serves as an entry point into your website's admin. On this page you can see how many pending content changes you have awaiting your approval and how many unread messages you have in the message center.

Pending Changes
The Pending Changes page has a comprehensive list of changes you have made as an Editor and changes awaiting your approval as a Publisher.
On this page you can see exactly how many changes are awaiting your review, what page or module the change is made to, and which user made each change. You can also quickly preview, edit, approve or deny each change.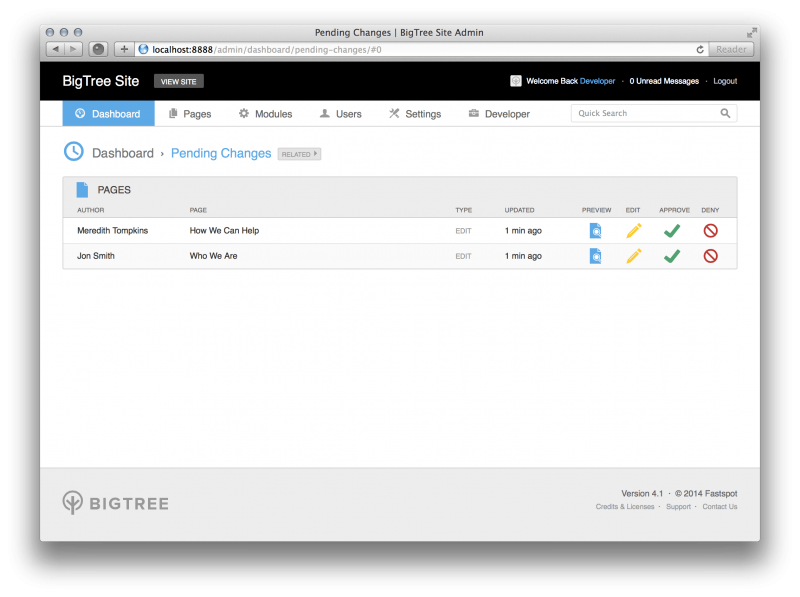 Message Center
The Message Center page is your inbox for messages exchanged with other BigTree users within your BigTree CMS. Messages you receive in the Message Center are permanently archived, and unread messages are presented to you on the Dashboard Overview page as well as in your Daily Digest email sent each day by BigTree CMS. BigTree will not email you each time you receive a message. On the Message Center page you can view unread messages and review previously read messages and sent messages. By clicking the New Message button you can compose a new message and send it to fellow BigTree CMS users.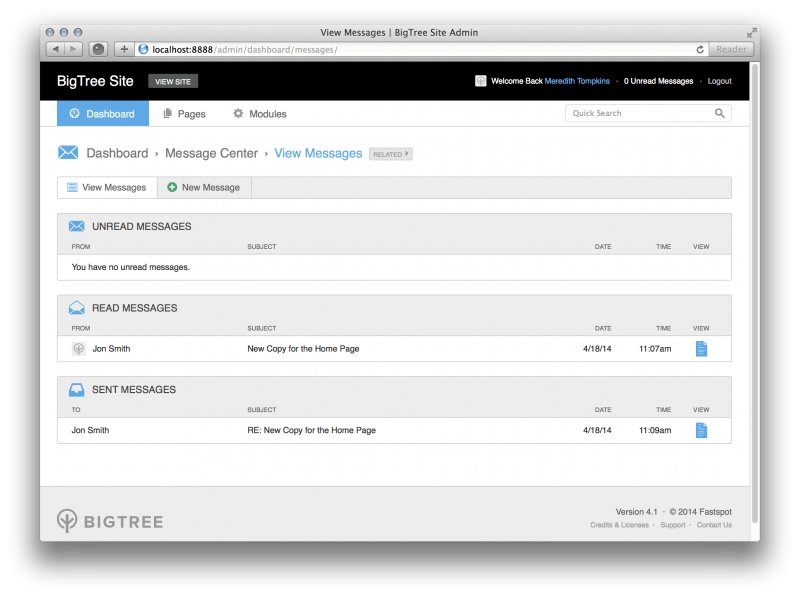 Vitals & Statistics
The Vitals & Statistics page is a gateway to three very useful administrative tools: Analytics, 404 Report, and the Site Integrity Checker.
Analytics
The Analytics page is an integrated, abbreviated look at your website's analytics as tracked by Google Analytics. On this page you can see reports on keywords, traffic sources, and service providers.
404 Report
The 404 Report is a comprehensive list of 404 errors triggered by users requesting missing pages and resources. 404 requests are ordered by frequency of the request, and can be dealt with from the list view in BigTree making it easy to register a permanent 301 redirect or ignore the 404 request.
Within the 404 report you can: view active 404 requests awaiting action, view previously ignored 404 requests, and view previously registered 301 redirects.
Site Integrity Check
The Site Integrity Check will search your site for broken/dead links and alert you if any exist.
You may choose either to include external links (links to other sites) or ignore them. Including external links will significantly slow down the integrity check and may throw false positives.